Let The Pinnacle Financial Group help you walk your own path to financial independence.
"I want more control over my financial journey."
We offer a wide range of wealth management solutions to individuals, families, businesses & business owners.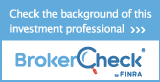 Our Commitment to Giving Back
From our inception, we have been dedicated to helping improve our communities and the lives of our neighbors. We work closely with a number of charitable organizations, helping those in need start their own journeys.
The Pinnacle Financial Group supports a variety of worthy charities and causes.
"I want someone I trust to help me manage my financial decisions and solutions."
Own Your Journey
It's Your Journey — we will help you own it.