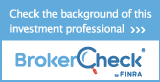 Comprehensive Financial Planning for Individuals & Their Families
You Know You Need an Effective Plan for Your Financial Future
It's Time to Turn to the Financial Professionals
Maybe you've worked hard and your career is taking flight or perhaps you've already worked a long rewarding career and have your sights set on a well-deserved retirement. Either way, you have a clear idea of where you want your life to go, but you're not certain of the best way to get there. You know that it's time to bring in a financial professional to handle your investment and wealth management planning, so that you can devote your full attention to what you do best. Maybe you've already tried that, but the advisor you've been working with is often inaccessible or seems uninterested in helping you.
At The Pinnacle Financial Group, we believe that everyone has a unique financial journey, one that starts with a single step. You've taken that first step—that's why you're here. Let us help you take the next step.
A recent study found that more Americans would rather talk about politics (50%)
or current events (70%) than their financial health and well-being.
—The Master Your Money Pulse Poll
Financial Planning Doesn't
Need to Be Intimidating or Confusing
A clear and comprehensive financial plan can be the most
effective way to reach your goals.
When you're making decisions about your financial health and future, there's nothing more important than trust…that's the key to our success at The Pinnacle Financial Group. We'll take the time to get to know you and learn your individualized needs, goals, opportunities and concerns.
Let us help you map out your unique journey financial health and freedom.
The Pinnacle Financial Group
Let Us Travel with You on Your Journey to Financial Independence.
It's your journey—we'll help you own it.
We'll take the time to learn about you, about your dreams and passions, as well as your concerns.